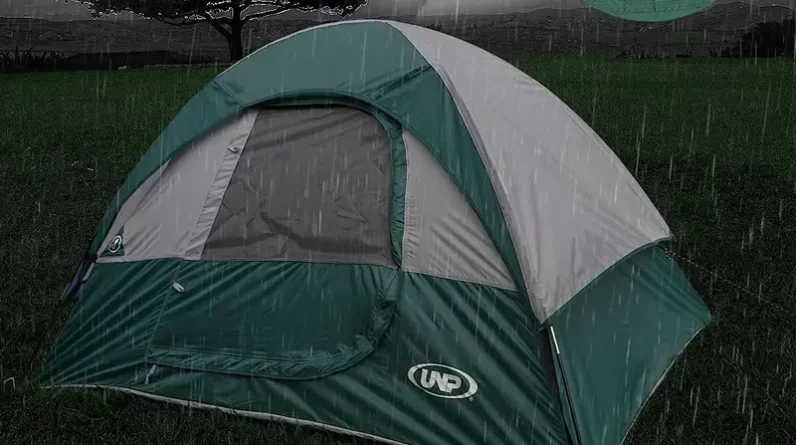 For outdoor adventures, the UNP 2-Person Camping Tent has been a standout choice among campers. This tent has been praised for its unique blend of comfort, durability, and portability, making it a game-changer in the world of camping gear.
Despite its lightweight design, weighing in at just 4.8 lbs, the UNP 2-Person Camping Tent does not compromise on space. It offers a spacious interior, comfortably accommodating two adults or a small family. This makes it an excellent choice for those who want to keep their pack light without sacrificing comfort.
One of the standout features of this tent is its resilience against the elements. Crafted from tear-resistant polyester, it includes a removable rainfly and dual zippers, providing excellent protection against rain. Users have reported that the tent holds well, even in challenging weather conditions, thanks to its sturdy ropes and stakes.
But the UNP 2-Person Camping Tent isn't just about practicality; it's also designed with comfort in mind. The skylight net and large mesh window enhance breathability and provide a fantastic view of the outdoor surroundings. An interior storage pocket is a thoughtful addition, keeping belongings organized and within easy reach.
Ease of setup is another area where the UNP 2-Person Camping Tent shines. Users have reported that it can be assembled quickly, even by a single person, with the instructions conveniently sewn inside the bag for easy reference.
Customer reviews for the UNP 2-Person Camping Tent have been overwhelmingly positive. Users have praised its ability to withstand a drenching from a hose, while others have appreciated the mesh top for bug protection and stargazing. The tent's size has also been commended, with users noting that it comfortably fits two adults with gear.
Versatility and Adaptability
Whether it's a beach outing, a fishing trip, or a hiking expedition, the UNP 2-Person Camping Tent adapts to the user's needs. Its design and features make it a versatile choice for various outdoor activities. The tent's mesh top is perfect for stargazing on clear nights, while the rainfly can be quickly attached when the weather turns sour.
Compact and Portable
Despite its spacious interior, the UNP 2-Person Camping Tent is compact when packed away. Its dimensions of 17.84″L x 5.6″W x 5.1″H make it easy to carry and store. The tent fits neatly into its carry bag, making it a convenient choice for those who need to save space in their backpack or car.
Four-Season Functionality
Another commendable feature of the UNP 2-Person Camping Tent is its four-season functionality. While many tents are designed for specific seasons or weather conditions, this tent is built to withstand various climates. This makes it a reliable choice for campers who enjoy outdoor adventures year-round.
Customer Satisfaction
The UNP 2-Person Camping Tent has received numerous positive reviews from customers. Many have praised its easy setup, durable construction, and comfortable interior. Users have also highlighted the tent's ability to withstand harsh weather conditions. The manufacturer's commitment to customer satisfaction is evident in their prompt and helpful responses to customer queries and concerns.
In conclusion, the UNP 2-Person Camping Tent is a high-quality, versatile, and reliable choice for outdoor enthusiasts. Its thoughtful design and features, combined with positive customer reviews, make it a standout option in the world of camping gear.
Bart Humes, our editor, is a seasoned camping and survival enthusiast from Colorado. With expert knowledge in orienteering, fire-starting, and wilderness first aid, Bart's passion and skills make him a master of the great outdoors.